| | |
| --- | --- |
| The mission of Foods-4-Thought is to breakdown the barriers surrounding the discussion of teenage depression and suicide one conversation at a time. People gather with family and friends around a dinner table or talk over a meal at a restaurant, why not actively get this topic out in the open in those settings? If people would discuss this painful subject, they'd find that nearly everyone has been touched by depression or suicide in some way. Families need information on how to treat teens or cope with a tragedy instead of suffering silently alone. Contact Director@foods-4-thought.org for more information, or review the numerous books, links and resources on our Resources Page. | Our Symbol of Hope |
Turquoise Butterfly. Much like the pink ribbon has become a symbol for breast cancer (a topic that years ago was also taboo), the Foods-4-Thought organization has chosen the turquoise blue butterfly as the symbol of hope in the cause of preventing teenage suicide. Our vision is for people to see a our butterfly and remember those lost, help those still struggling or share a message of hope to the survivors. Everyone of us can do something to make the world a better place one conversation at a time.

Two "Public Service Announcement" Videos:
California Polytechnic State University (Calpoly) Independent Film Makers have graciously volunteered their time to create two short videos to help get the message out. Please share these and give us your thoughts. We are looking to create messages about the impact of teen depression on the whole family, how common an illness this is (you are not alone), how friends should talk to an adult if their friend is suffering etc. Thanks, Calpoly Film Makers!!


Videos - Please view our two Public Service Announcements. Provide your comments at support@foods-4-thought.org.
Children and Families need not suffer quietly and feel hopeless



As a Community – We can make a difference with one teenager, one family at a time
Bring a voice to this silence
Dispel the stigma of this mental health issue
Create a place to provide support and information
Help sponsor activities to promote awareness





Teenager dies of suicide
Did you know:
Suicide is the 2nd leading cause of death among Americans between the ages of 25-34 and 3rd among the ages of 15-24
Ninety percent of suicides that take place in the United States are associated with mental illness, including disorders involving the abuse of alcohol and other drugs
Fifty percent of those who die by suicide were afflicted with major depression, and the suicide rate of people with major depression is eight times that of the general population
You can make a difference! Help us raise the awareness of this disease and reach out to others. We can become a community willing to talk about this painful subject and help others
See our "Resources Tab" for references and facts about this terrible disease

Share this with your friends and communities
Help by donating a treasured recipe to the Foods-4-Thought cookbook. Provide your memorials or dedicated recipes to this site to help get the word out to others. Together, we can make a difference "one conversation at a time".

Please send your recipes to: support@foods-4-thought.org
For immediate help, contact the National Suicide Hotline
1-800-273-TALK
Foods 4 Thought has recently been made aware of an excellent resource for those dealing with addiction:
www.addictionguide.com
You can also find this link on our Resources Page!
In addition, Please Take time to read this recent submission on Mental Illness and Alcohol As a Coping Mechanism by Steve Johnson:
Mental Illness and Alcohol as a Coping Mechanism
By Steve Johnson
Alcohol is a common crutch for people suffering from mental illness. It muddles the thoughts, making the illness less prominent and allows the person to relax and fall asleep quickly. Unfortunately, alcohol addiction can also lead to the eventual worsening of the mental illness, a decline in physical health, and even suicidal thoughts. Here are a few of the reasons a mentally ill person might abuse alcohol and some good replacement coping skills.
To Quiet the Mind
For a person with a disorder like anxiety, their minds are always going. They worry about things past, present, and future alongside the usual, everyday thoughts. These worries can make the mind feel like a whirlwind with too many thoughts occurring at once. Alcohol is a tempting crutch because it slows the mind down, forcing it to think one thought at a time. For a person who suffers from anxiety, this is a welcome relief.
Unfortunately, this can easily become an addiction with the person using alcohol daily in order to get relief from their anxiety. Instead, it would be beneficial for a person like this to practice meditation or yoga. The aim of both practices is to quiet the mind and, while it may not be as fast acting as alcohol, it is a far healthier way to cope.
To Feel Better
For a person with a disorder like depression, leading to general feelings of fatigue and sadness, alcohol can offer temporary feelings of carefreeness, relaxation, and sometimes even feelings of happiness. Turning to alcohol, too, can easily become an addiction. When alcohol is the only way a person knows how to feel better, abusing it becomes a habit. However, alcohol addiction can actually result in the worsening of depression, leading to suicidal thoughts.
Instead, a person who needs to feel better should test their diet, find nutrient deficiencies, and eat better. They should also find a form of exercise they enjoy as the endorphins produced will create those positive feelings a depressed person craves.
To Escape
A number of people struggling with a mental health problem simply want to escape it. They want to forget about their problems and exist in a state where they can pretend everything is okay. Even if they cannot do that, alcohol can still make it difficult to remember their problems, providing a sort of temporary bliss. Of course, as with any form of escapism, it is not a healthy way to cope with reality.
Instead, if a person truly feels the need to escape, they should consider art therapy, reading, or journaling. Being transported to another world, albeit in their mind rather than reality, is one of the healthiest ways a person can leave their own struggles behind for a little while.
In a culture so dependent on alcohol, it's no wonder so many people go straight to the bottle to solve their problems. However, alcohol is a dangerous substance that can cause both physical and mental damage to a person.
For mentally ill people, coping with reality can be a very difficult task and drinking can make it easy. Substance abuse in any form is not a healthy way to cope. Healthy alternatives must be found in order to live a long and happy life. To find these alternatives, it may be best to speak with a counselor or join a support group dedicated to sobriety.
Steve Johnson has always been dedicated to promoting health and wellness in all aspects of life. Studying in the medical field has shown him how important it is for reputable health-related facts, figures, tips, and other guidance to be readily available to the public. He created PublicHealthLibrary.org with a fellow student to act as a resource for people's overall health inquiries and as an accurate and extensive source of health information. When he isn't hard at work in his studies, Steve enjoys playing tennis and listening to his vintage record collection.
Image via Pixabay by Unsplash
Out of Darkness Walk - F4T raised over $5,000 to support the American Foundation for Suicide Prevention.
Active Minds 2012 - F4T donated $1000 to support the mission of Active Minds
Adolescent Self Inury Foundation 2015! - F4T donated $1000 to support the mission of the Adolescent Self Injury Foundation (www.adolescentselfinjuryfoundation.org)




October 2010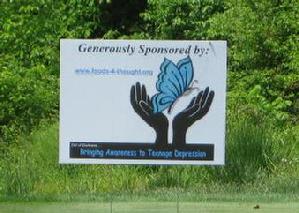 F4T Sponsors Hole in Golf Tournament
"A Cookbook for a Lifetime of Sharing" --- First Edition is complete.

The first edition of the cookbook is complete. Thank you all for the great recipes, pictures and ideas. The cookbook is a great way to create a family heirloom for your family. Add your own pictures and recipes and keep the tradition going. The cookbook is in a binder so you can easily add your own touches.
A Girl Scout Badge on Awareness of Teenage Depression? The Girl Scouts offer a badge on "Breast Cancer Awareness", previously a taboo subject in our society -- thank you Girl Scouts. But, statistically, depression is a much more likely illness that scouts (girls and boys alike) will face, whether personally or having a friend suffer. Can we create a badge to help get the word out about teenage depression to educate kids ages 12-18 and their parents? Listen to to a teen's perspective on this...check out our TeenSpeak page.

Bethesda Magazine Publishes Article on Teen Depression

Parent's Worst Nightmare

In 2007, best friends Rachel Crites and Rachel Smith took their own lives sitting in a car on a remote road in rural Virginia. Now, for the first time, the girls' parents talk about what happened—and the warning signs they missed

By Kathleen Wheaton, Bethesda Magazine



Download Article: "A Parents Worst Nightmare"
Family Crisis Room Dedicated

May 2009: Montgomery County Crisis Center Dedicates the "Rachel Crites Memorial Room" for family counseling. The Maryland County Department of Health and Human Services has a new, bright, comforting setting for helping families in crisis thanks to donations in lieu of flowers for the family of Rachel Lacy Crites.



Food-4-Thought Inc. is a Non-Profit Organization Dedicated to Raising Awareness About Teen Depression and Suicide, 'One Conversation At A Time'.