| | |
| --- | --- |
| The mission of Foods-4-Thought is to breakdown the barriers surrounding the discussion of teenage depression and suicide one conversation at a time. People gather with family and friends around a dinner table or talk over a meal at a restaurant, why not actively get this topic out in the open in those settings? If people would discuss this painful subject, they'd find that nearly everyone has been touched by depression or suicide in some way. Families need information on how to treat teens or cope with a tragedy instead of suffering silently alone. Contact Director@foods-4-thought.org for more information, or review the numerous books, links and resources on our Resources Page. | Our Symbol of Hope |
Turquoise Butterfly. Much like the pink ribbon has become a symbol for breast cancer (a topic that years ago was also taboo), the Foods-4-Thought organization has chosen the turquoise blue butterfly as the symbol of hope in the cause of preventing teenage suicide. Our vision is for people to see a our butterfly and remember those lost, help those still struggling or share a message of hope to the survivors. Everyone of us can do something to make the world a better place one conversation at a time.

Two "Public Service Announcement" Videos:
California Polytechnic State University (Calpoly) Independent Film Makers have graciously volunteered their time to create two short videos to help get the message out. Please share these and give us your thoughts. We are looking to create messages about the impact of teen depression on the whole family, how common an illness this is (you are not alone), how friends should talk to an adult if their friend is suffering etc. Thanks, Calpoly Film Makers!!


Videos - Please view our two Public Service Announcements. Provide your comments at support@foods-4-thought.org.
Children and Families need not suffer quietly and feel hopeless



As a Community – We can make a difference with one teenager, one family at a time
Bring a voice to this silence
Dispel the stigma of this mental health issue
Create a place to provide support and information
Help sponsor activities to promote awareness





Teenager dies of suicide
Did you know:
Suicide is the 2nd leading cause of death among Americans between the ages of 25-34 and 3rd among the ages of 15-24
Ninety percent of suicides that take place in the United States are associated with mental illness, including disorders involving the abuse of alcohol and other drugs
Fifty percent of those who die by suicide were afflicted with major depression, and the suicide rate of people with major depression is eight times that of the general population
You can make a difference! Help us raise the awareness of this disease and reach out to others. We can become a community willing to talk about this painful subject and help others
See our "Resources Tab" for references and facts about this terrible disease

Share this with your friends and communities
Help by donating a treasured recipe to the Foods-4-Thought cookbook. Provide your memorials or dedicated recipes to this site to help get the word out to others. Together, we can make a difference "one conversation at a time".

Please send your recipes to: support@foods-4-thought.org
For immediate help, contact the National Suicide Hotline
1-800-273-TALK
Please take the time to read this Recent Article Submitted by Jennifer McGregor of the Public Health Library in Grandville MI:
What Causes Suicidal Thoughts?
Most people believe that suicidal thoughts and actions are the result of depression. While that is true to an extent, there are other reasons people can begin to experience these issues. Understanding suicidal thoughts is the first step in being able to help yourself through a difficult time. Someone who does not know the causes might believe that it is a personal fault causing the symptom while others may not believe that treatment will help them. Understanding the mechanics of your own mind is critical when it comes to mental health care. If you are suffering from suicidal thoughts, the following information may shed some light on the causes of these thoughts.
Depression is a Common Root of Suicidal Thoughts
Untreated or severe depression often leads to suicidal thoughts, which may persist or grow worse over time. The best way to handle suicidal thoughts when you have depression is to ensure you are getting quality help from a professional.
Some people who suffer from depression may not even recognize it as depression. Education on mental health is lacking in the U.S., leaving too many people untreated and undiagnosed. If you are experiencing suicidal thoughts in addition to symptoms such as loss of interest, lack of motivation, and difficulty doing daily tasks, it is possible that you have depression.
Personal Crisis Can Cause Temporary Suicidal Thoughts
When a life-altering crisis strikes, a person may feel that her future is gone or ravaged beyond repair. Suddenly, she is left with panicked thoughts telling her that suicide is the only way out. If you experience a crisis, it is important that you either seek the support of a counselor or call a hotline. There are numbers to call in the event of a crisis as well as a suicide hotline (1-800-273-8255). While hotlines are not a permanent form of treatment, they are ideal for an emergency situation.
Abuse of Any Kind Can Also Have This Effect
Any history of abuse can leave a person at greater risk for suicidal thoughts. For some, this is the result of post-traumatic stress disorder (PTSD). For others, the abuse alone is enough to damage their mental state, causing suicidal thoughts. In either case, the help of a professional often mitigates the traumatic effects of the abuse and limit the risk of suicidal thoughts. PTSD, in particular, should be treated immediately before the symptoms worsen.
Social Rejection is a Common Issue with LGBT People
As social creatures, we need the support and acceptance of others. For many LGBT people, their daily life experiences include hatred, rejection, and even physical violence. This consistent social rejection, particularly by one's family, is enough to cause suicidal thoughts as well as substance abuse problems among the LGBT community. In turn, substance abuse also increases the risk of suicide as it removes any inhibitions that may have been preventing suicide. Support groups and counseling are good ways to handle this cause of suicidal thoughts.
If you have begun considering suicide, do not wait to seek help. Reach out to a hotline or a counselor and work to uncover the cause of your struggles. From there, you will be able to treat the problem at its source rather than grapple with these thoughts that can destroy both your relationships and your life. If you cannot find the motivation to get yourself help, confide in someone who can assist you in getting the support you need. Never take the risk of going untreated.
Out of Darkness Walk - F4T raised over $5,000 to support the American Foundation for Suicide Prevention.
Active Minds 2012 - F4T donated $1000 to support the mission of Active Minds
Adolescent Self Inury Foundation 2015! - F4T donated $1000 to support the mission of the Adolescent Self Injury Foundation (www.adolescentselfinjuryfoundation.org)




October 2010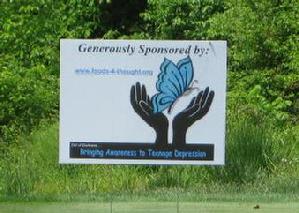 F4T Sponsors Hole in Golf Tournament
"A Cookbook for a Lifetime of Sharing" --- First Edition is complete.

The first edition of the cookbook is complete. Thank you all for the great recipes, pictures and ideas. The cookbook is a great way to create a family heirloom for your family. Add your own pictures and recipes and keep the tradition going. The cookbook is in a binder so you can easily add your own touches.
Bethesda Magazine Publishes Article on Teen Depression

Parent's Worst Nightmare

In 2007, best friends Rachel Crites and Rachel Smith took their own lives sitting in a car on a remote road in rural Virginia. Now, for the first time, the girls' parents talk about what happened—and the warning signs they missed

By Kathleen Wheaton, Bethesda Magazine



Download Article: "A Parents Worst Nightmare"
Family Crisis Room Dedicated

May 2009: Montgomery County Crisis Center Dedicates the "Rachel Crites Memorial Room" for family counseling. The Maryland County Department of Health and Human Services has a new, bright, comforting setting for helping families in crisis thanks to donations in lieu of flowers for the family of Rachel Lacy Crites.



Food-4-Thought Inc. is a Non-Profit Organization Dedicated to Raising Awareness About Teen Depression and Suicide, 'One Conversation At A Time'.